Company History
Shirk & O'Donovan was built on the idea that innovative structural solutions begin with a thorough, thoughtful game plan, a game plan that is developed conversationally with our clients and partners. We have a long history of successfully implementing these plans and helping deliver on-time projects that meet the aesthetic and financial aspirations of our clients.
---
Design Philosophy
At Shirk & O'Donovan, we practice the art and science of structural engineering as we help bring architectural concept and vision to life. As artists, we bring creative and, when appropriate, bold thinking to the team. As scientists, we deliver precise yet practical solutions that meet the intent of complex building codes and are consistent with the fundamental laws of physics. We enjoy being a part of projects that make a difference in the quality of our lives: places for people to gather, places for people to learn, places for people to shop and be entertained, and places for people to heal. We enjoy the longstanding relationships we have developed with our clients. We enjoy doing what we do, and we think you will enjoy working with us.
---
Core Values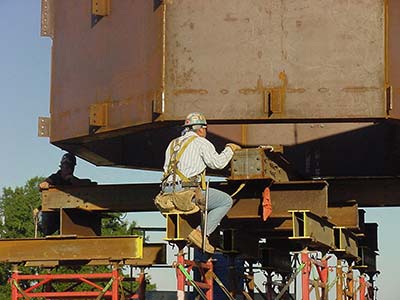 Our Core Values form the bedrock on which our practice and our designs are founded. We define our culture and set our vision looking forward on these values:
Client Service
Embrace the mission. We exist to serve the best interest of our clients.
Loyal
Responsive
Available
Proactive
Integrity
Do what's right. Guided by the Engineering Code of Ethics and our own moral compass, we pursue the simple truth.
Ethical
Honest
Principled
Trustworthy
Collaboration
Teamwork breeds success. We actively listen and transparently share our thoughts as we create innovative solutions.
Lasting Partnerships
Trusted Advisors
Team
Excellence
Be bulletproof. We aim for perfection and believe in continuous improvement in our processes and our quality program.
Smart
Consistent
Practical
Thorough
Prepared
Inspiration
Think outside the box. We say "Can do" when others say "Can't be done." We enjoy collaboratively solving problems and celebrating our people and their accomplishments.
Making It Happen
Innovative
Unique
---
People
Our people are our practice. They are the foundation of our success, our innovation, our commitment to our clients. Working quickly and collectively, we solve problems and get to "Yes, it can be done."
---
Affiliations
American Institute of Steel Construction
American Society of Civil Engineers
American Concrete Institute
National Society of Professional Engineers
Ohio Society of Professional Engineers
Structural Engineering Institute
Structural Engineers Association of Ohio
LEED© Green Associate
National Council of Examiners for Engineering and Surveying
Former Officer, NE Chapter of the Ohio Society of Professional Engineers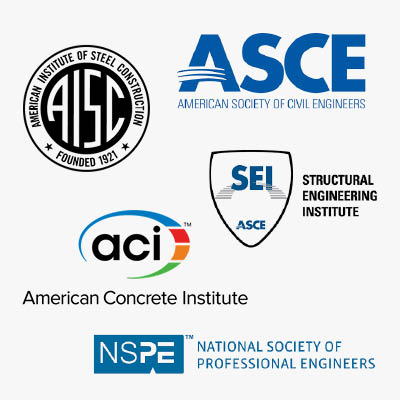 ---
Registrations
We currently hold professional engineering registrations in 48 states and 3 Canadian provinces.
---
Innovation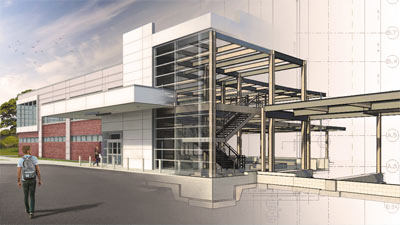 We are continuously exploring the latest in 3D data-rich software, both for 3D structural analysis and Revit modeling. We are committed to the intelligent use of these technologies, as they provide excellent tools that are consistent with our core values of client service, collaboration, excellence, and inspiration. BIM, when properly implemented, facilitates productive workflows between engineers and architects; this enhances the exchange of information and produces a better coordinated design. Ultimately, our BIM models can also be used in concert with our construction partners to facilitate real-time scheduling and cost control decisions with 4D and 5D modeling. As 3D modeling and analysis software continues to advance, the potential for virtual prototyping and the ability to explore virtual design options is limitless. Whether utilizing the latest technologies or simply sitting around the table sketching and sharing ideas, we are committed to doing whatever it takes to produce creative, well-coordinated, and cost-effective design solutions.
---
Careers
At Shirk & O'Donovan, we offer our employees a challenging and rewarding work experience which enables each individual the opportunity to grow their professional career in a fun, relaxed work environment. To obtain the highest level of professional development, we invest in our staff through training, mentoring, continuing education and collaborative work efforts. Because we work in eight diverse construction markets, we offer countless opportunities to fully develop our professional careers.
We also understand the importance of achieving a healthy work-life balance and the need to unplug and relax, exercise regularly, and spend time with friends and family. We promote a family-oriented team approach with a variety of social activities planned to include weekly staff lunches, our annual corn hole tournament, family night with the Clippers, happy hours, our March Madness family party as well as our annual holiday parties. To help promote health and wellness, Shirk & O'Donovan provides employees with an annual gym membership, lunchtime hikes and healthy snacks on Wellness Wednesdays.
To discuss opportunities at Shirk & O'Donovan, contact us today. And please feel free to send us a copy of your resume.